P

refab Houses Construction Company, Cold Room & Kitchen Equipment Manufacturer.

With over 10 Years of Experience, Thermoteq Prefab Houses Construction Company has earned a legacy of operational excellence in construction and manufacturing low cost prefab houses, cold rooms, kitchen equipment, bakery equipment, air conditioning and EPS Panels. Our talented team is committed to providing exceptional service to ensure our esteemed customers' comfort, convenience, and satisfaction. Working together, we can make great buildings for generations to come.
Our Culture
Let's Build Beautiful Houses Together.
Our diverse team of talented employees is driven by a commitment to innovation, operational excellence, and sustainability. We live our values to Be Collaborative, Innovative, and Drive Success the right way as a prefab houses construction company.
Team Work
Thermoteq's growth in acquiring the best management team started 11 years ago as Thermoteq Cooling Service Ltd. Over the years of being the leading manufacturer in the insulation & prefabricated structures across East and Central Africa; we've grown exponentially to provide quality, unique, and fast services to our clients.
We've built our position in the industry through our dedicated team members who bring their whole output into making Thermoteq the leading prefab houses construction company. We provide quality air conditioning, cold rooms, commercial kitchen equipment and EPS panels as one of the leading prefab houses constructors in Nairobi.
We now specialize in the production and construction of cold rooms and temperature controlled environments. Our in-house manufacturing facility caters for insulated panels, insulated doors and ancillaries suitable for a wide range of applications. We are well known as a leading prefab houses manufacturers that provides custom solutions for customers quickly and cost effectively. Our reputation for providing high quality products and outstanding service at the most competitive prices has made us first choice for a wide range of businesses in the east African Region at large.
Our Vision
To be the leading company in Africa, for the design, supply, installation and maintenance of Cold Rooms, Air Conditioners and Kitchen Equipment. To be a "one stop shop" for providing solutions and services in the Hospitality industry.
Quality Policy
We are committed to customer satisfaction. We achieve this through our customer care desk which monitors and ensures customer satisfaction.
The building was the most significant project that I have been involved with as a Principal. Thermoteq Ltd delivered it beyond contractual ensuring the project ran smoothly and efficiently.
Had a AC problem on a hot, sunny Saturday afternoon. Thermoteq Limited was prompt, professional and helpful in solving the problem and suggesting ways of preventing future problems.
Great professional people, very polite and easy to deal with. Very knowledgeable of every aspect of what we needed. I would recommend Thermoteq to anyone.
THERMOTEQ LEADERSHIP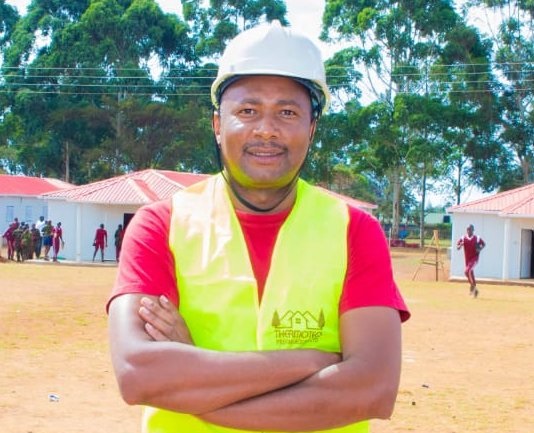 CEO Message
As The Founder  & CEO of THERMOTEQ LTD , I firmly believe that if we can achieve a place in the heart & mind of our customers as a provider of innovative solutions for integrated communities that suit every need and fulfill all dreams, the possibilities for the growth of THERMOTEQ LTD will be unlimited no matter how challenging the economic, social and environmental conditions are.
THERMOTEQ  is truly committed to benefiting and profiting the society, staff and our shareholders.
I would like to take this opportunity to pledge that I and the THERMOTEQ team will endeavor to devote our full efforts to exceed our customers' expectations & fully satisfy their needs and requirements.
Thank you.
Our History
Thermoteq Limited as a leading prefab houses construction company has grown exponentially over the last 15 years. This is due to its unique business proposition and project execution quality, leading to the birth of a great company.
Thermoteq was started over 15 years ago as Thermoteq Cooling Services Ltd. We have built many buildings over the past years owing to our unique business proposition and quality of project execution to our customers. As a prefab houses company our in-house manufacturing facility caters for insulated panels, insulated doors and ancillaries suitable for a wide range of applications.